When a shop is designed it's an exiting process and quite a few people can be involved. There are Interior Designers, Visual Merchandisers, Commercial Team, Buyers etc; they all work together to come up with the best store layout. Something that is inviting for the customers, represents the brand and makes the best use of the space.
It's much harder when you are independent retailer and you have to play all of those roles yourself.It's good idea to involve your staff off course, and I'm sure many of you are already doing this.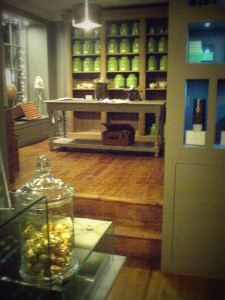 Here are few tips and reminders about the importance of your store layout.
Entrance space – it's not the not the best selling space as the customers walking in are still adjusting to the new environment.
The Primary and Secondary spaces – can be different in different shops and be mindful how you position stock to make the best use of your shop. This is where you make most of your money!
The back of the shop – sometimes can be hard to direct your customers there but there are few tricks to make this area more inviting.
'Add on sale' and 'last chance to buy' are clever way of Visual Merchandising but my advice is not to overdo it. Usually this stock is located on a very prominent position or near the cash desk.
Day to day merchandising – this is your strength compared to big stores. Being small allows you to quickly react to changes. So next time you see the rain starting get those macs and brollies near the front of the shop! 🙂
For more advice or if you fancy a taster workshop in Visual Merchandising please get in touch!
info@skelastudio.co